GRANT OLIVER
Grant Oliver is a graduate of VCU and a 32 year old Richmond resident of over a decade. A fast learner of songs, he is experienced in many styles of music, from extreme metal to funk and country western. When not instructing, Grant can be found gigging weekly with numerous projects and often in pit bands for musicals.
He teaches guitar, bass, and ukulele on Saturdays.
JOHN GONZALEZ DEL SOLAR
John studied classical guitar at VCU and graduated in 2002. He played professionally in the US Navy Pacific Fleet Band at Pearl Harbor until 2006. He has been a music instructor for 10 years, and is experienced in many styles from blues and rock to classical and jazz. He has been a resident instructor in Hanover county school systems, Richmond City schools, as well as at Collegiate. John has also been a clinician at the annual UkeFest Virginia.
John has worked extensively with students of all ages and ability levels. He excells at explaining difficult concepts and techniques in easy and accessible ways and formulating practice methods that help realize the students goals as efficiently as possible.
John teaches guitar, bass, and ukulele!
STEVE LAZAR
Steve

Lazar received his Bachelor's in Music Education from Old Dominion University in 2009 where he studied guitar, bass, piano, and saxophone. He has taught private lessons for 13 years and has taught at Music & Arts and other various local music shops. He was the Orchestra Director at Cape Henry Collegiate where he taught orchestra and percussion ensemble in addition to private lessons on guitar, bass, piano, violin, cello and ukulele.

Steve

currently plays bass in Big Virginia Sky a regional Americana/bluegrass band as well as being a sideman for a number of local musicians.
In lessons

Steve

focuses on goal oriented learning where the focus is the interests of the student combined with proper playing technique and FUN, because music is a lot of fun!
Steve

has taught students of all ages and levels is always excited to work with new or beginning students.
Steve teaches Wednesday and Thursday, so get on it!
GRANT LAWTON
Grant graduated from Radford University in 2016 when he received his Bachelor of Science in Music Performance. During his time there he studied classical guitar, lute, bagpipes, and played in several cities across Brazil with the Radford University Honors Guitar Quartet. In addition to his former studies he also enjoys playing ukulele, electric guitar, and Irish tenor banjo.
His teaching style is very much tailored to the interests and idiosyncrasies of the student, resulting in a progression of lessons that is structured yet flexible. All styles and levels of playing are welcome!
Grant currently offers lessons in guitar, ukulele, bass, and recorder, but there will be more to come!
Grant teaches Monday,Tuesday, Friday, and Sunday.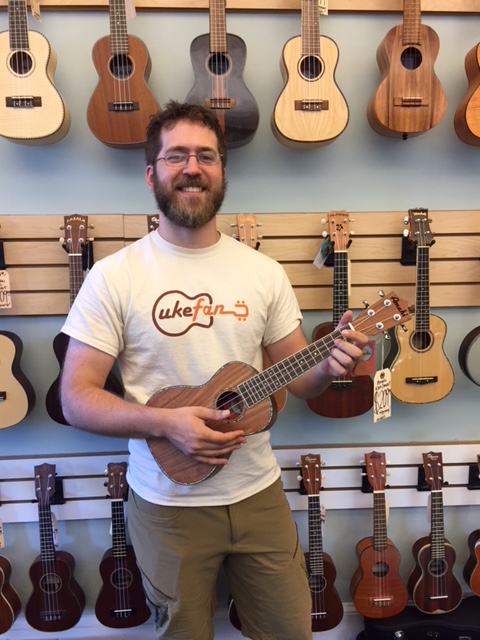 STU KINDLE
"Local ukulele legend" (in his own mind) Stu Kindle started off his musical career playing bassoon in orchestra and quickly moved into jazz percussion and bass. Stu went on to study classical bassoon and music theory in his college years.
He has since adapted his years of musical experience into pursuing the ukulele as his primary instrument, with a focus in Gypsy Jazz, Jazz, as well as good old rock and roll!
Check out his music here.
Stu also enjoys snack foods, arm wrestling, and hilarious vests!
Stu offers lessons on Fridays in bass, ukulele, and beginner banjo.